Featured Property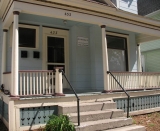 433 Hamilton Pl.
The former home of many successful U of M graduates. While they were here they had a great time in this classic beauty! Featuring a big party room in the basement. Great living space for 8-10 people. 9-10 bedrooms, 5 baths, 2 kitchens, plenty of parking and free laundry. Play in the street. Close to Jefferson and Division. Contact Lana 734-478-2936 by phone, text or email lana@university-places.com. Available for 2015.
More Information »
Welcome!
Dan's Houses has a number of beautifully restored homes on the University of Michigan campus and one of them is sure to meet the needs of your group. Please take a moment to look through the "Browse Properties" section for a brief description of each one. I'm almost all booked up, so let me know if you find a house you are in love with and we'll meet right away to pick up your holding deposit!
View All Available Properties!