Featured Property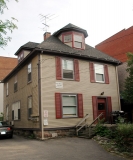 600 E. Washington St.
Charming, 1910 house near the corner of State St., currently rented as a whole house to one group. It has 5 or 6 bedrooms, 4 1/2 baths, 3 kitchens, multiple living areas, and 3 parking spots. Whole house available for $4200/mth plus utilities.
This home is available for lease for 2013-2014!!
More Information »
Welcome!
Dan's Houses has been serving University of Michigan students with off-campus housing for over eight years. With over 50 homes surrounding the University of Michigan campus, we are sure to have a rental to meet your needs. Our homes and apartments are full of historical charm and offer many updated amenities. We stand by our customer service, making your rental experience a positive one.
View All Available Properties!